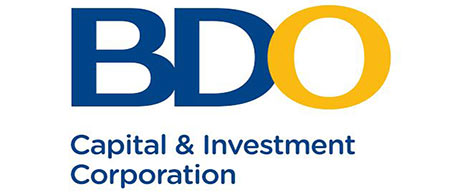 General Information:
Address: 20/F South Tower, BDO Corporate Center, Makati Avenue corner HV dela Costa St., Makati City, Philippines
Tel No.: 840-7844, 878-4155
Fax Number: 878-4553, 878-4156
Email address: bdocap@bdo.com.ph
Website: www.bdo.com.ph
Representative: Mr. Gabriel U. Lim
Designation: Senior Vice President
Tel No :878-4546
Fax No. 878-4553
Email : lim.gabriel@bdo.com.ph

Alternate: Jose Eduardo A. Quimpo II
Designation: First Vice President
Tel No : 840-7653
Fax : 878-4553
Email address: quimpo.jose@bdo.com.ph
Date of Incorporation: September 08,1998
Business/Products/Services
The wholly investment banking subsidiary of Banco de Oro Unibank, Inc., BDO Capital is a full service investment house primarily involved in equity and quasi-equity underwriting and management, direct equity investment, fixed income underwriting, packaging and syndication, securitization, and financial advisory.
Financial Highlights

In Pesos

2006

2007

Total Assets

1,451,172,696

995,710,336

Total Equity

1,276,582,509

888,509,771

Revenues

324,313,348

339,414,052

Net Income

117,589,621

123,531,773
Directors

Name

Position

Teresita T. Sy

Chairman

Nestor V. Tan

Vice-Chairman

Violeta O. Luym

Director

Ismael M. Estela

Director

Antonio C. Pacis

Director

Jesus G. Tirona

Independent Director

Eduardo V. Francisco

Director and President

Elmer B. Serrano

Corp. Secretary

Mario D. Rabanal

Asst. Corp. Secretary
Officers

Name

Position

Eduardo V. Francisco

President

Erlaster C. Sotto

SVP and COO

L. Jerome C. Guevarra

SVP and M&A and
Advisory Practice Head

Gabriel U. Lim

SVP and Equity Practice Head

Eleanor M. Hilado

FVP and Debt Practice Head

Noemi T. Villanueva

VP and Senior Deal Manager

Michael R. Cahigas

SAVP and Senior Deal Manager

Nilo C. Sampayo

SAVP and Compliance Officer
Subsidiaries and Affilliates:
Subsidiaries
BDO Securities Corporation – 100% owned
Affiliates
PCIB Securities, Inc.
Armstrong Securities, Inc.